We love to shoot! As Americans, there are several reasons why we do, but most of us……it is the essence freedom, liberty and our Constitution, the unalienable right given to us by our Creator.
I was born and raised in Arizona as with four other generations of my family. We are honored to be the 48th state of our great nation and we remain constant living by the heritage of 'wild west.' Shooting in the desert or up north of the state in the pines is always a blessing to embrace with all of our passion.
We all have our own traditions for enjoying our time out at the range. We will often modify our personal customs to accommodate the different people we take shooting. Sometimes it is a highly trained colleague or maybe it is a 'newbie' who has never shot a gun, maybe they are even bringing their kids. No matter the companions, you always try to bring your             'A-game.' So having a variety of options to offer when we go shooting could optimize the experience.
Some of us can say, "We have been there and done that," and some of us may say I am open to trying something different. Many shoot to have fun as the priority, some shoot to improve life's skills and others shoot because they just own a firearm. No matter who you may be……. a real gun game may be just what you are looking for.
I spent three years putting these ideas together. There are cool competitions for every demographic in the firearms community. Challenges for new gun owners that just need repetitions, old gun owners that just need something new and every other shooter in between. Games for our kids, games for our parents and games for our grandparents. A series of games where cash is required and games that send losers home crying. Hardcore games that integrate shooting with athletic workouts & unusual activity and other games that are just simply crazy. And then there are some traditional games that I have demonstrated additional ways to enjoy them that you may not have thought of.
Thank you to all those who provide the 'Armor of Freedom' for our nation serving in the military! Thank you to all the first responders and your perilous service! Thank you to all the families that sacrifice their loved ones!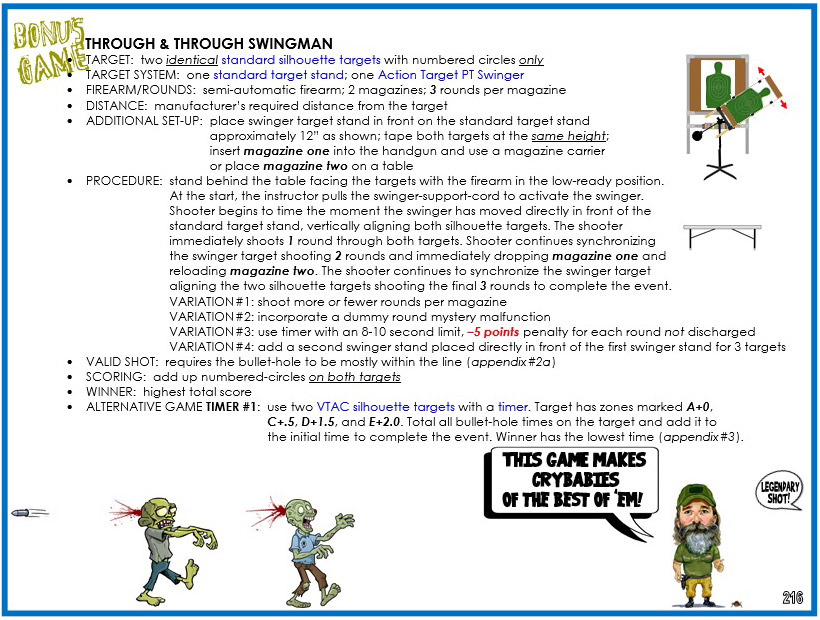 God Bless
Treg